We adopt to homes throughout
the North-East and into Canada!



Click on the above PDF icon to see, download & print
our brochure - hand them out wherever you can!
for best results print as "expand to printable area", and
make sure the double sided edge is the short one.
Follow us on:
Come see us on:
watch "The Race" by Matt Dahan, this video
was created especially for N.G.A.!
N.G.A. is the only retired racing Greyhound
adoption kennel in Vermont.
At any given time we have between 25
and 40 Greyhounds. Please come visit,
your new family member is waiting!

Northern Greyhound is a 501(c)3 non-profit charity.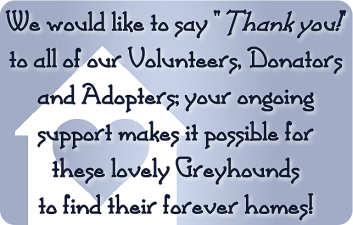 Volunteers who care for the dogs and raise funds
for their vet care, housing, food and everything are
needed by non-profits like us. Since we take care
of living, breathing being - in this case the gentle
souls of retired racing Greyhounds - this assistance
is greatly needed! Please do help us make them
well taken care of; volunteering for turn-outs and
helping with fundraising are essential to keeping
the Greys happy and cared for while they wait
for their forever homes - thank you!
Adopt-A-Greyhound.org has put together the
above delightful PSA to celebrate National
Greyhound Adoption Month in April.
(But we think it's cute enough to see year-round!)
To see how wonderfully the right Grey can fit
into anyone's life, please check out Gunner's page
with links to videos of a wonderful adopted Grey
in action! (Do keep in mind that most
would rather be couch potatoes!)